Bukhatir Group: Championing the transformative journey of a Made in UAE brand Q&A with Ayman Ahmed, CEO, Industries, Trading & Services Sectors, Bukhatir Group An Interview with Gulf News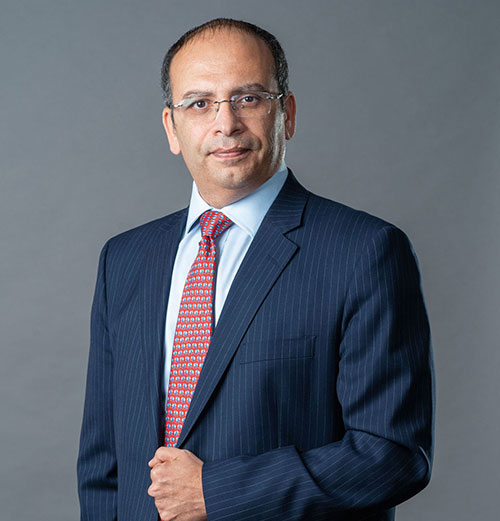 The Bukhatir Group is among the UAE's most recognised brands. Share an overview on the group's transformative journey since you took over the reins.
Ever since taking on the helm of the Bukhatir Group, we have embarked on a remarkable transformative journey that has propelled us to the forefront of the UAE's business landscape. Our commitment to innovation, diversification, and strategic investments has allowed us to achieve significant milestones and establish ourselves as one of the most recognised brands in the region.
Some noteworthy milestones in our transformative journey involve our subsidiary, Conmix Limited, which recently made headlines by achieving a Guinness World Records title. Conmix, a renowned provider of ready-mix solutions, earned recognition for its extraordinary accomplishment in delivering the highest volume of concrete for a single project within a 24-hour time frame. Conmix had achieved this feat by harnessing advanced technology such as GPS tracking data combined with in-house software systems to make intelligent business decisions, as well as working closely with its R&D team to develop cutting-edge concrete admixtures, ensuring top performance and quality, while maintaining a high level of operational efficiency.
The company was also awarded the Best Ready-mix Factories Award in Dubai, at the International Concrete Technology Forum in 2022. The award is a testament to the performance and quality standards upheld at the plant.
Furthermore, Conmix has been at the forefront of implementing sustainable practices and has emerged as a market leader in the construction materials industry for reducing its environmental impact by incorporating sustainable by-products such as GGBFS into the manufacturing process, thereby promoting greener construction practices.
German Gulf Enterprises Limited - also a subsidiary of the Bukhatir Group - highly prioritises its sustainability actions to reduce its carbon footprint, along with being committed to promoting the emergence of renewable technologies and has chosen to collaborate with TotalEnergies to use solar energy at its facility in Dubai. TotalEnergies installed a 535 kilowatt-peaks (kWp) solar PV rooftop, covering a surface area equivalent to over 10 tennis courts. The solar rooftop is expected to produce almost 800 megawatt-hours (MWh) in its first year of operation and can cover almost 100 per cent of the facility's energy needs.
As a result, the company will see a reduction in its carbon emissions by over 300 tonnes of CO2 annually, which is equivalent to approximately 9,000 trees planted per year.
The UAE continues to explore and open new frontiers in the global energy market and has shifted its focus from the traditional oil and gas industry to the growing renewable energy segment. To support this initiative, another one of our companies, ULO Systems, provides its unique services, focusing on a niche segment; foundation grouting, where it self-developed its technology in the UAE, and has been growing ever since into a global leader in the provision of pipeline and platform grouting services and solutions for the offshore construction industry.
Moreover, we embarked on the journey of digital transformation as a part of the corporate vision for 2023, and initiated our Ru'ya Transformation Programme, partnering with reputable industry leaders, Oracle, Deloitte, and Nalsoft, as part of an ongoing effort to improve technological capabilities and deliver higher levels of efficiency. The parameters of the programme involved upgrading the existing ERP system to focus on 4 key pillars: technology, process, people, and data.
These remarkable achievements, amongst others, serve as testaments to the Bukhatir Group's unwavering commitment to excellence, and our relentless pursuit of pushing boundaries. It showcases the spirit of innovation that permeates throughout our organisation and stands as a shining example of our transformative journey.
Q: You have worked in management roles and steered the local fortunes of global brands during your professional career. What have been your main takeaways while working for these firms, and how do you implement your learnings at the Bukhatir Group?
During my professional career, I have had the privilege of working in management roles and steering the fortunes of global brands. One of the main takeaways from these experiences is the significance of adaptability and agility. The business landscape is constantly evolving, and it is crucial to anticipate and respond to market trends and customer demands. At the Bukhatir Group, we embrace a forward-thinking approach that encourages innovation and flexibility. We actively seek opportunities to collaborate with international partners, adopt best practices from global industry leaders, and implement cutting-edge technologies that enhance our operational efficiency and customer experience.
Q: The focus on education is very strong for the Bukhatir Group. How has the sector evolved in the UAE in the last decade, how has the group played a supportive role in this growth story, and what are its future forays in the sector?
The education sector in the UAE has witnessed significant growth and evolution over the past decade. As a responsible corporate entity, the Bukhatir Group has played a supportive role in this growth story. We have made substantial investments in educational institutions and our goal is to provide quality education that nurtures young minds, equipping them with the skills and knowledge necessary for success in a competitive global environment. Looking ahead, we will continue to explore opportunities to further expand our presence in the education sector, both domestically and internationally, and contribute to shaping the future of education.
Q: How important is staff wellness for the Bukhatir Group, and how do you elevate this experience among your teams?
Staff wellness is a top priority for the Bukhatir Group. We believe that a healthy and happy workforce is crucial for driving productivity and fostering a positive work environment. We provide comprehensive wellness programmes, including health and wellness initiatives, employee assistance programmes, and a strong emphasis on work-life balance. Additionally, we promote a culture of open communication, recognition, and professional development to ensure that our teams feel valued and motivated.
Furthermore, we host 2 awards ceremonies; Taqdeer, which acknowledges the triumphs of our driven team members, departments, and subsidiaries, and Nujoom, which highlight the accomplishments of our academic and non-academic faculty from the Creative Science Schools. The awards fall under various categories such as Company of the Year, Employee of the Year, Employer of Choice, and Most Sustainable Company, for Taqdeer, along with Educator of the Year, Lifetime Achievement Award, Mentor of the Year, Most Dynamic Principal, Team of the Year, and The Rising Star, for Nujoom, to name a few. By prioritising staff wellness, we aim to create a harmonious and fulfilling work experience for our employees.
Q: As the CEO of an established regional corporate brand with global sectoral influence, what is your approach for success and your advice to young management professionals aspiring to be in your position, as well as young entrepreneurs hoping to impact their chosen fields of business?
As the CEO of a conglomerate with global sectoral influence, my approach for success revolves around several key principles. Firstly, maintaining a clear vision and setting ambitious yet achievable goals is crucial. Secondly, fostering a culture of innovation, continuous learning, and adaptability is essential to stay ahead in a rapidly changing business landscape. Thirdly, building strong relationships with stakeholders, customers, and partners is vital for long-term success. Lastly, embracing diversity and inclusivity within the organisation promotes creativity and innovation.
For young management professionals aspiring to be in a similar position, I would advise them to focus on building a solid foundation of knowledge and skills, seeking diverse experiences, and demonstrating a strong work ethic. It is also essential to cultivate a growth mindset, be open to learning from others, and seize opportunities to take on leadership roles.
For young entrepreneurs, I encourage them to identify a market gap or a unique value proposition, have a thorough understanding of their chosen industry, and develop a robust business plan. Surrounding oneself with a strong support network, including mentors and advisors, is invaluable. Above all, persistence, resilience, and the ability to learn from failures are key attributes that can drive entrepreneurial success.